I saw Francesca Woodman's photographs for the first time as part of an
exhibition
in Edinburgh. Diane Arbus and Robert Mapplethorpe were there too, though I had come only for her.
I already knew her work. I had seen it before, online and in art books but I understood it differently when the photographs were pinned up on the wall in front of me. They were smaller there and even smaller when I compared them to the big glossy photographs of Diane Arbus in the next room. I had never considered this fully. I leaned in and squinted just to really see them, their walls and shadows, bodies and ghosts. It was like looking through a peephole - I realised - or a small hand mirror.
Candice Wuehle's Death Industrial Complex gave me the same feeling all over. A collection of poems entirely dedicated to the death and cult of Francesca Woodman, I first flicked through the book's pages, from part 0 to 3 and saw the small and intense shapes the poems made on the page. They looked just like the photographs on the wall. I kept this in mind and got through it slowly. I wondered, can I really read these poems as photographs?
I found myself lingering on a line until I caught something - a familiar subject, a caption, an umbrella, a dress, an eel, a mirror. The ability to conjure Francesca Woodman's photographs in prose here became unyielding and sometimes uncanny.
Take the photograph "Self-portrait talking to Vince", the way it is written into Death Industrial Complex over and over. The poet addresses Vince and talks directly to him, dragging the photograph through the collection. I imagine the lines she writes to Vince like the curly telephone wire, spilling out of Francesca's mouth, both the poet and the photographer.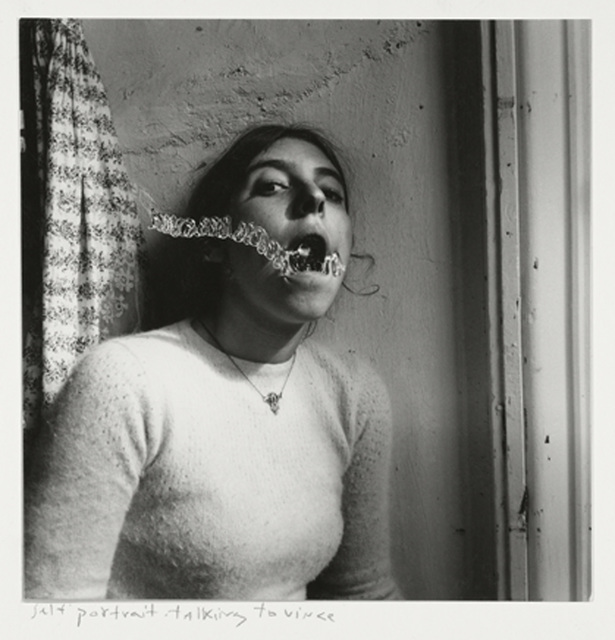 She writes:
... Even vince isn't talking
to me anymore so i arc my spine and tilt
my chin until his innards are exposed in a spiral
coiling from the O of my mouth.
The photographs come back to life like this, written into small, gnarly poems. They bolster the themes of the collection: the mirror, the cult, the light, New York, the garbled architecture, and most importantly, the anti-fetishized voice of Francesca Woodman. The young woman making art, capturing herself many times over before and after she dies. There is an agency here that is rarely offered to her. It is both clarifying and scary to read, and when it works it is powerful indeed.
Near the end, the poems in Death Industrial Complex don't just finish, they fade away. The typeface turns grey more and more until it disappears into the void of the white page. Like a ghost at the end of a haunt, ruminating on what traces of life are left behind. I come away from this collection feeling closer to Francesca Woodman's work - and more fearful of it.